i heard they may damage the electronics within the cluster. does anyone have the led's in? thanks
[color=#KRAZY00FF40][/color]
---
Posts: 1254
Joined: Sat Sep 12, 2009 12:08 am
Location: Pittsburgh
I don't have them, but i can not see how they would. What did you hear?
---
if they burnout they damage the circut board. this isnt for sure. but imma buy my led's from autolumination.
[color=#KRAZY00FF40][/color]
---
Posts: 1254
Joined: Sat Sep 12, 2009 12:08 am
Location: Pittsburgh
i would think a burned out led would act just like a burned out anything else.

they 09 up cluster seems to have leds already. i have not verified this myself though.
---
Posts: 80
Joined: Sun Sep 27, 2009 5:00 pm
Location: Around Ottawa area - Ontario,Canada
Contact:
On this note if your bulb or led shorts bad enough and burns the board you will have
damage
that just the luck of a bulb or led burning out . But the better led and bulb tend to work better. Note Keep the watt & amps close to what factory put in there is some leeway but if you over tax wire or the board in the circut you could Damage stuff. Note try to keep burned led & bulbs ( lights ) out of the system, the longer you leave burned bulbs in. The more you tax that area wiring or circut ( it's a short ). Most of the problem is heat to much Or when the burn out pulls power before it total out. If it does not go out fast there will more heat to that area. With bulbs you could tell some time that it works but the bulbs very black looking that a bad bulb and should be replaced. I have not heard any thing yet about this but there still could be some truth to this. But this use to happens and still with bulbs. This would all so include headlight to much draw on a system that IE. only takes 5 apms and you use 20 apms it may work but it will burn more likely to burn melt when the light burns out.

PONTIAC1976
PONTIAC
The Mark of a Great Car
PONTIAC
The Mark of a Great Car

http://www.cardomain.com/ride/3101276
---
Posts: 8
Joined: Mon Aug 23, 2010 11:56 pm
Yea the 09s have Green LEDS....I'm looking to change them to like white or blue
---
Posts: 80
Joined: Sun Nov 28, 2010 1:16 pm
Location: Exton, PA
as long as the current going through the bulbs doesnt go higher than the OEM amps and watts it will be fine, the headlight thing is 100% correct though, the wires on the car are made to only carry the current of the stock bulbs... but if the LEDs are of the same specs im deff getting a different color!! =P
vroom vroom traction action!
'09 V5
'86 GLH
---
Posts: 1008
Joined: Sat Sep 12, 2009 2:38 am
Location: Fairbanks, Alaska
Contact:
09's and up have green SMD(solder-mount diode) LED's. You have to clip them and solder new ones in their place. You can get full SMD LED kits for it from blackcatcustom.com along with some other gauge goodies I convinced them to produce.
Farthest North Aveo: Fairbanks, Alaska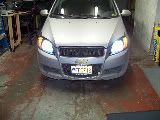 ---
Posts: 8
Joined: Mon Aug 23, 2010 11:56 pm
Does anyone have the blackcatcustoms LEDs for the +09s? Or should I be the first?
---
cool thanks for the info. im gonna hook it up wit the led's
[color=#KRAZY00FF40][/color]
---
---
Who is online
Users browsing this forum: No registered users and 1 guest