So I bought a 2009 Aveo5 a few months ago with only 5200 miles on it.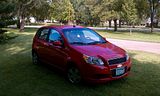 The day I brought it home.
Not too many plans, pretty much just wheels, tires, tint, and Rabbit's coilover kit thingy. Kinda looking at the 09/10 spoiler, too.
Got the wheels in last week: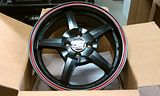 Will wait until spring to get tires for them, and hopefully by then I'll have the extra monies for the coilover kit, also.
This weekend, I got a chance to put the car on the rollers at the local shop---mostly just for laughs. All the guys were taking bets on how little power it would make. Guesses ranged between 55 and 75 horsepower at the wheels. (Mustang [heartbreaker] dyno)
I think it surprised everyone.
http://www.youtube.com/watch?v=0vD_7fOW2uA